Bull Gap Snowpark
Bull Gap Snowpark
Ski the Bull Gap Trail 5.8 miles up to Mt. Ashland Ski Area, or take the advanced 3.5 mile Crest Loop.
Bull Gap Trail is a gradual 600-foot descent for 3.3 miles – with a view of Mt. McLoughlin – to the Bull Gap intersection before climbing 2.5 miles and 1100 feet to the lodge. Ski the trail in reverse for more downhill by following blue diamond markers below the lodge's north side into the trees.
The challenging Crest Loop offshoot starts at Bull Gap trailhead, but turns right on the side trail after .4 miles. Rejoining Bull Gap Trail after 2.2 miles, turn left for .9 miles back to the trailhead.
Difficulty Level: Moderate to Challenging
Directions: From downtown Ashland, drive southeast through town on Siskiyou Blvd. and merge onto the Interstate-5 on-ramp. After 6 miles uphill, take exit 6 to Mt. Ashland. In .7 miles, turn right onto Mt. Ashland Ski Road. Take this road uphill for 7 miles to a small lot on the right at the Bull Gap Snowpark.
Notes: Tire chains may be necessary. Dogs are prohibited. A Sno-Park permit is required to park here.
Outdoor Recreation Safety Note: Please be sure to read our safety note on our Outdoor Recreation home page.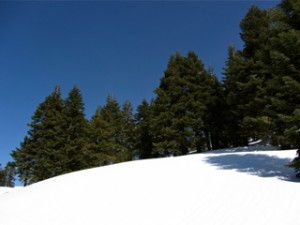 Comment: