Buck Prairie Winter Recreation Area
Buck Prairie Winter Recreation Area
Buck Prairie Winter Recreation Area is a popular cross-country skiing and snow-shoeing trail about 25 minutes east of Ashland. There are 17 miles of ungroomed trail loops accessible here, including a 4-mile loop and a 11.7-mile loop.
Both loops begin with a gradual descent for about a mile before the 4-mile loop splits downhill sharply to the right through trees on a single-track trail before some intermediate uphill work delivers you back to the parking area. The longer loop descends along a ridge of open viewpoints before a long steady climb back to the trailhead.
From Buck Prairie you can catch views of Mt. McLoughlin, Hyatt Lake, the Rogue Valley and Siskiyou and Cascade mountain ranges.
Difficulty Level: Easy to Moderate
Directions: From I-5 Exit 14 in Ashland, drive east on Ashland Street to Dead Indian Memorial Road and turn left onto it. Drive uphill past mile marker 12. At about 12.4 will be Burnt Creek Road on your right. Half a mile past this you'll see the Buck Prairie Road parking area on your right at about 12.9 miles.
Note: You must have a Sno-Park permit to park at the trailhead. A helpful Buck Prairie Winter Recreation Area map can be found here.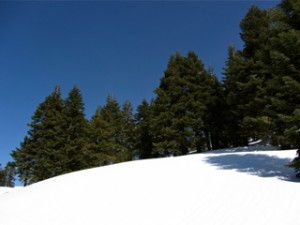 Comment: